Interesting Halloween Popcorn Packaging Design Can Surprise People
In modern society, even popcorn packaging boxes need better design to attract consumers. Of course, present popcorn is mostly sold in cinema, so they have few competitions. However, if it is sold online or in shop, packaging is very important. A little observation will show that delicately packed popcorn will often be sold at higher price, and this is even more true in cinema; those packed in plastic bag are at low price and few people will buy them even if the amount is great. Have you seen interesting Halloween popcorn boxes? Let's learn about it next.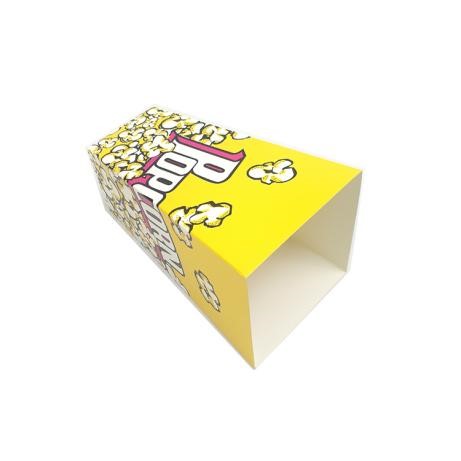 Ⅰ. Interesting design of popcorn packaging boxes
Most merchants and cinemas don't pay much attention to the design of popcorn packaging. Actually, popcorn packaging design affects audiences' decisions of purchase or not. Techniques can be found in outstanding cases for popcorn packaging design.
One Spanish packaging design studio has designed a kind of innovative popcorn packaging boxes. This kind of boxes looks elegant for the first time, you cannot imagine that is for popcorn, since it adopts display surface of marbling. Furthermore, according to different flavors, different metallic packaging is designed, and corns after heating looks similar to packaging color.
Ⅱ. Design element of popcorn packaging boxes
Besides, the popcorn packaging box of marbling, after products are taken out, can be folded and expanded to popcorn container, which is easily to be used. Such innovative and elegant packaging is liked by audiences, and some of them may not eat popcorn for the packaging. Based on above mentioned cases, the general design techniques for Halloween popcorn boxes are as follows:
(1) First, packaging design shall be reasonable, which means consumers can tell that product is popcorn from packaging, and become interested in and trust the products from outer package.
(2) Then, packaging design shall be unique, which means popcorn packaging shall be innovative to stand out from similar products, and it will attract consumers naturally.
(3) Besides, packaging shall be aesthetics. The artistic characteristic of halloween popcorn boxes will leave room for imagination and people can feel the beauty of packaging design.
In fact, for popcorn packaging, on the one hand, pay attention to easy recognition and easy to remember, with visual impression and artistry, on the other hand, it shall have high generalization ability, in accordance with popcorn's essential feature and with the trend of the times.
More Article