The Most Popular Packaging of Halloween Popcorn Boxes
Who doesn't like the fragrance of popcorn in cinema? Fragrant and the tastiest flavor makes the film more interesting. Without popcorn, cinema seems not incomplete. What's the better choice than sharing popcorn with relatives? You can get popcorn packaging boxes from any shop around your house, and can also use some creativity to personalize those boxes in order to make them more pleasant.
Customized popcorn boxes can ensure full feast of popcorn and don't waste your hard work. You can customize them according to party theme, and can also contact us for design, and then wait. When party is coming, customized popcorn boxes not only add personal color to the party, but also increase your hard work and sincerity.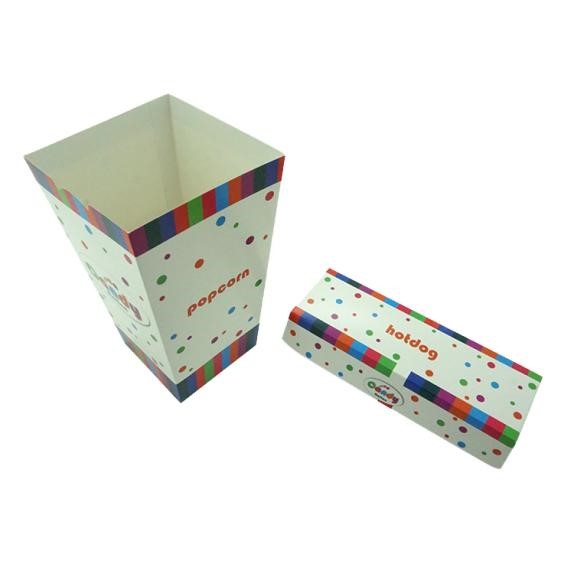 1. Popcorn boxes
This is the most famous and common popcorn packaging. When enjoying popcorn in cinema, you can own these boxes. Popcorn boxes begun to be used in 1900. The boxes are disposable with high quality. Besides, they can be recycled. Those Halloween popcorn boxes are printed with beautiful presswork and poster, very interesting, and easy to be stored and used. You can bring them home, and cut out the presswork and use them in scrapbook. The boxes are made of light paperboard, usually very high and open from top. The frame size can be changed.
2. Popcorn can
Cans are more durable than popcorn bags and plastic boxes. Please make sure to use stainless container for rust prevention.
3. Popcorn paper bag
These Halloween popcorn cosmetic paper bag is the oldest popcorn containers discovered. Popcorn was in bulk sale locally. During Halloween carnival, pitchmen once sold popcorn in these bags. Even so, paper bags are stilled used for selling popcorn in some regions. They can contain popcorn of 2oz at most. Today popcorn paper bags can still be found for reduction of waste and recovery. They are environmental and durable for short-term use. They are easy to bring and dispose. They are suitable for small party involving children, and can be gift bags for children.
4. Popcorn bucket
Popcorn bucket can also be called popcorn bucket. For Halloween party, this kind of Halloween popcorn boxes will be used. They are made of thick paper, much firmer than popcorn boxes. The size of bucket is different so that popcorn capacity is different too. Popcorn bags are prohibited at theater because they produce too much noise and disturb audiences. Besides, those who like popcorn more than ordinary people, or want to watch movie at theater or with a huge crowd, popcorn bucket is a choice.
More Article