Knowledge about Thanksgiving Favor Boxes
Ⅰ. Thanksgiving as a traditional Western holiday
Thanksgiving Day, a traditional Western holiday, is a uniquely founded holiday by the American people, and it is also a holiday for the American family to gather together. There was no fixed date for Thanksgiving at the beginning, and it was decided temporarily by each state in the United States. After the independence of the United States, It was not until 1863 that President Lincoln declared Thanksgiving as a national holiday. In 1941, the US Congress officially designated the fourth Thursday of November each year as Thanksgiving Day. The Thanksgiving holiday generally lasts from Thursday to Sunday. Now that we know the origin of Thanksgiving, do you know the packaging gift box for Thanksgiving? Next, the carton manufacturer of Green Printing Company will lead you to learn about the knowledge of Thanksgiving gift boxes.
Ⅱ. What would you put in the Thanksgiving favor boxes?
1. Pumpkin pie

On Halloween and Thanksgiving in the West, pumpkin pie can be put in Thanksgiving favor boxes. Pumpkin pie is a popular dessert on the holiday table. Turkey and pumpkin pie have become a must-have meal for Thanksgiving, to thank the Indians who helped and supported them in times of crisis, and also to thank God for their gifts. So pumpkin pie is indispensable for Thanksgiving food.
2. Cranberry moss jam
We can put jam in the Thanksgiving food box. The sweet and sour cranberry jam was the first food on the Thanksgiving table, and it is also on the table today. Cranberries are small, sour wild berries that grow in the swampy areas of Massachusetts and New England. The Indians used its fruit to treat various inflammations, and used the juice to dye red carpets and blankets. They taught the Puritans how to use sugar and water to cook cranberries and make cranberry jam.
3. Apple cider
There are many delicious traditional foods on Thanksgiving. After eating a rich variety of food, a little more drink would be great. We can put apple cider in the Thanksgiving food box. Cider is one of the indispensable foods for Thanksgiving in the United States. Cider has a low alcohol content, ranging from 2% to 8.5%. The apple cider mainly contains fructose, with a fresh fragrance and a slight apple flavor. When you drink it, it is slightly sweet with slight acidity, and the fruity taste may be thick or light.
4. Cornbread
Cornbread is a portion of food that both British and Indians like. According to the origin of Thanksgiving, when the British Puritans immigrated to the United States without food to eat, the local Indians gave them their own food. In order to express their gratitude, Thanksgiving was celebrated. So this cornbread continued in this way and became a must-have food for Thanksgiving. We put cornbread in the Thanksgiving food box is also a good choice.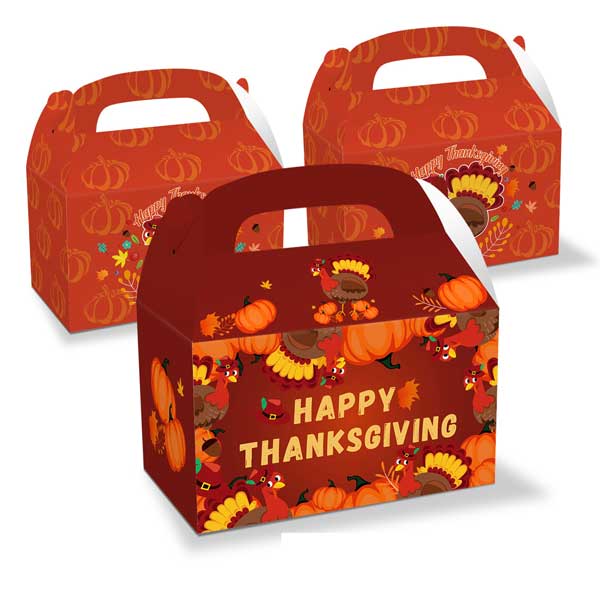 Ⅲ. Where can you buy good quality Thanksgiving favor boxes?
If you want to customize the Thanksgiving gift box, you can choose Green Color Printing as your cardboard box maker can also provide different types of gift boxes. Green printing provides recycled packaging and environmentally friendly packaging. We provide a wide variety of jewelry boxes, gift boxes, paper tubes, card boxes, notebooks, corrugated boxes, paper cards, recycled paper bags and other recycled gift packaging to meet all your packaging needs. We sincerely welcome domestic and foreign friends to come to negotiate business. If you are more interested in our products and services, please contact us immediately.
Ⅳ. Customize the Thanksgiving favor boxes with heart

Although Thanksgiving originated in the West, the meaning is always in everyone's heart. Thanksgiving gift boxes with heart, based on the overall marketing, match the life scenes of different industries, different applications, and different recipients. Customize a gift box that spreads brand influence and effect for you. If you need to wholesale or purchase some Thanksgiving gift boxes, please contact Green Printing.
More Article