Do You Need ​Halloween Themed Gift Boxes?
Ⅰ. Green Color Printing: a professional packaging manufacturer
Green Color Printing provides you with different kinds of packaging products. As for printing, you can trust our company's experts, one of the best custom packaging manufacturers. The personalized packaging box helps to promote your marketing and create your business. Custom packaging boxes provide you with the most flexibility. These boxes are customized in size, design style, and additional folding according to your specific specifications.
Ⅱ. Different types of Halloween themed gift boxes
As one of the most professional custom packaging manufacturers, Green Color Printing considers that product packaging is very important for people's life. In this era of rampant online shopping, creating a perfect unpacking experience for customers can create a good impression for the brand. When online shopping becomes a growing trend, the main concern of brands is to deliver their products to customers safely and without damage. However, with the development of the packaging industry, the unpacking experience of online shopping products has become more personalized and emotional. Now that the brand has completely surpassed the product itself, it all depends on how to make customers perceive your brand. No matter what elements you choose to add to the different types of gift box packaging for Halloween when you receive this package, it will leave you with a strong Halloween holiday atmosphere.
Different types of Halloween gift boxes are specially prepared by Green Printing for Halloween. In terms of material, we chose cardboard as the production material, with a beautiful pumpkin image printed on it. A pumpkin with a mocking face is a Halloween symbol and is very festive. Different types of gift boxes for Halloween use a foldable structure, which is very convenient for transportation and can save a lot of space. When the box is folded, it is fixed with straps, which is very delicate and suitable for small gifts such as candies and accessories. The cartons are available in a variety of colors, and we can customize the gift box according to your needs by providing materials and craftsmanship.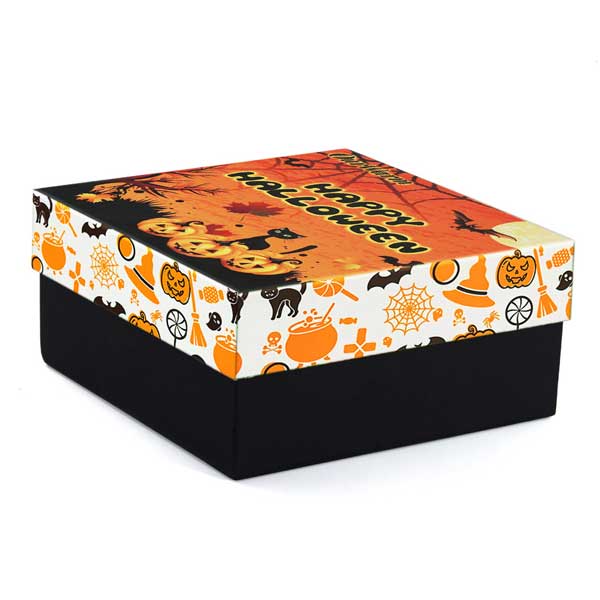 Ⅲ. Order custom Halloween themed gift boxes from Green Printing

Green Color Printing Company is a supplier of cartons, located in Guangzhou, close to the Canton Fair. We have advanced mechanical equipment and a professional team. If you want to order Halloween themed gift boxes, you can contact our official customer service online, and we will provide you with quality service.
We are a professional packaging box manufacturer, and our employees are well-trained printing experts to ensure that your printing is of professional quality and ready to meet all customer requirements in time. No matter what your needs are, as one of the best cardboard and corrugated box manufacturers, we specialize in the production of very high-quality Halloween-themed gift boxes and printed packaging. We will find the most suitable solution for your needs and ensure that your printing work is completed on time and perfectly. If you need more information, please email or call us immediately.
More Article